Looking for Live Chat Software?
The quickest way to engage with your customers!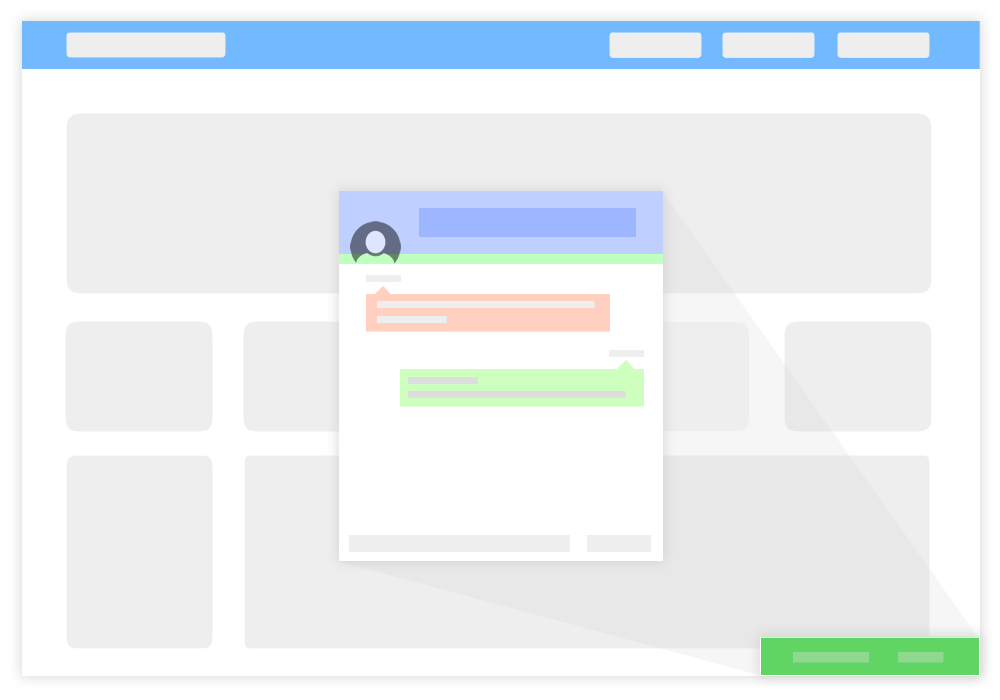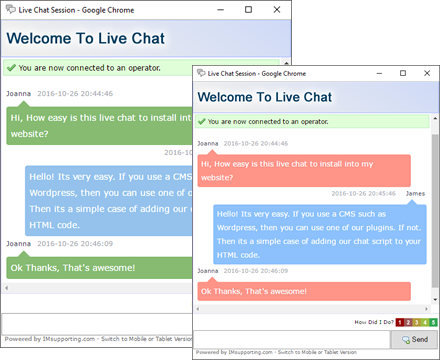 What is Live Chat Software?
Live chat software is a tool used by business websites globally to assist with communicating with users on their websites in real-time.
Live chat typically works with a user clicking a "Click here to chat to us" button that launches a small chat window to communicate with the websites owners / operators / staff. The chat buttons are normally placed at the bottom of a website visible no matter where the user scrolls or on important areas where the user may need live assistance.
Live chat software is normally accessed via a SaaS (Software as a service) platform. This means that the end user and operator of the live chat system never needs to download anything. Its all 100% web based and works via any recent web-browser.
There are many live chat providers, some offering free services and some offering paid services such as ours. We feel that paid services offer a better experience for everyone as the platform is supported and run by a company rather than a free project with little to no business support.
You know you are in good hands with a UK based, Live chat provider dedicated to your success!
Why use Live Chat Software?
Do you run a website? Do you run a business?
You need sales! You need to retain your current visitors and have them return, time and time again.
By using live chat software on your business website. You can encourage users to visit again or buy a product from you simply by answering their questions or help assist a lost user to find a product they are looking for.
Live chat is an inexpensive communication tool that is slowly overtaking phone based support calls.
Why pick up a phone, dial a number, wait for them to answer and then talk for hours. Why not just allow your visitor to click a button and chat to you instantly?
Not only is live chat better than using basic phone support. It also helps you and your operators by giving everyone time to answer a question ( either by viewing what a user types as they type it ) or simply by allowing a customer to see when you or your operators are replying.
You are NOT under the pressure of a phone call where "dead air" is a bad thing. You and your staff are not pressured to give quick, unhelpful answers. You can take your time and support your visitors better by using live chat software on your business website.
Without Live Chat
With Live Chat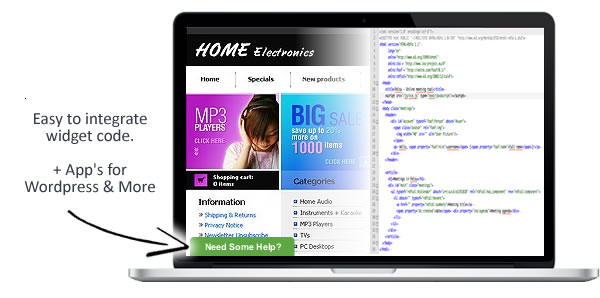 Easy to install
You can install the IMsupporting Live Chat Software simply by using one of the following methods:
Use one of our CMS plugins such as our WordPress plugin (Here)
Copy and Paste the chat <script> into your own website manually
Have your own I.T or Website guys do it.
Have us assist and install for you.
Once installed, Simply login to your easy to use chat dashboard and click "Go Online"
You are now ready and waiting for new support and chat requests. Get Chatting!
How much does Live Chat Software cost?
The IMsupporting live chat service starts from £9.99 per month package. This is aimed at the smaller websites looking to test live chat, answer a few chats and understand what their users want.
Our £14.99 package is aimed at the growing business website. You get a platform capable of handling more chats, more staff accounts and more reporting. Great for a small business who expect to have a good amount of chats with their end users.
We have much larger packages for the bigger business websites starting from £49.99 who need to have many staff using the platform and 100's of chats per hour. We have a dedicated platform for these larger companies who have more bespoke requirements.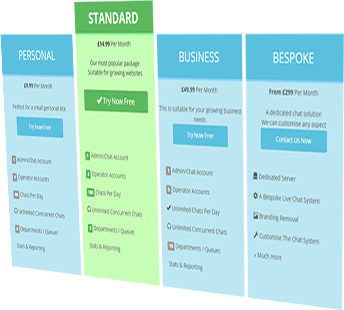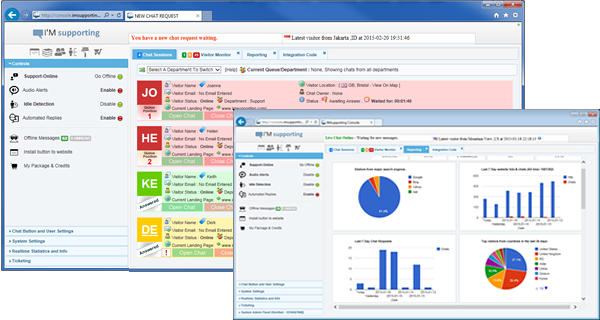 Simple, Easy to use interface
IMsupporting has been designed with simplicity and features in mind.
We want a fully featured, powerful system that can be used quickly and efficiently.
The live chat software interface is available via any modern web browser and you will be answering chats within minutes.
Want to use the more advanced features? Simply select a section on the left hand menu and select the option to change its setting.
Advanced reporting gives you deep insight into where your visitors come from, who's chatting with you and how your staff are performing..
Sign Up Now Free
Login now and start chatting within minutes!