IMsupporting Live Chat Software
Chat with your website visitors today!
Extremely powerful live chat tool for your website.
What is IMsupporting Live Chat Software?
IMsupporting is a live chat platform for websites and e-commerce stores.
By using our 100% web based software, you can add live chat support to your website and instantly start talking to your visitors in real time.
Offering 1-2-1 personal sales or support advice to either help drive new sales or to help retain current clients by offering excellent support.
Our platform can be found in use by all kinds of websites ranging from small business through to law enforcement.
Try our software FREE of charge.
How can IMsupporting help your websites?
Convenient for your Customers.
By adding live support / live chat to your website, Your customers have a quick, easy to use tool that helps them engage with you and your staff.
Lower business expenses.
Lower your average interaction cost per customer by supporting multiple users at once via an affordable communication platform. Relieve strain on your traditional phone support systems and use your staff more efficiently.
Increase Sales & Conversions.
Live chat is a great way to help increase sales. Help confused users when they need sales advice. Assist users through from start to cart.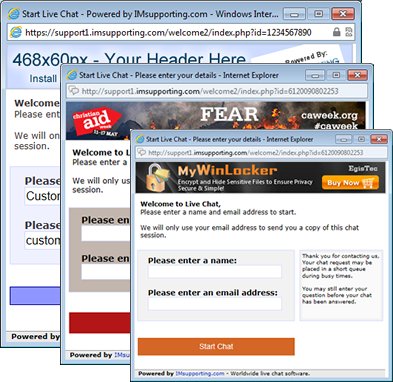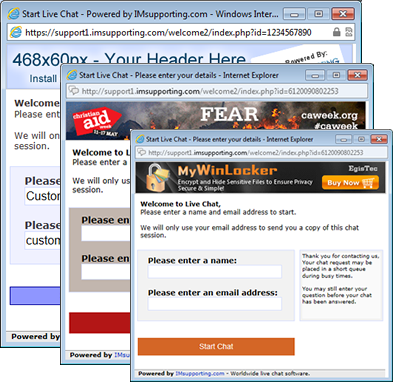 Customisable live chat system
Not only do you get a feature packed live chat software solution for your business that helps increase your sales and customer satisfaction.
You also have plenty of custom options to help integrate into your business website quickly and easily. You can use our WordPress plugin or simply paste the HTML into your website.
You can change the design and feel of the chat software window, add your own business logos and change the colours and text so it matches your own website design.
Add live chat software to your on-line store or website today!
Fast, Live Chat Software
Live chat helps increase sales by enabling you and your business to communicate with your website visitors in real-time over the internet.
Support your visitors 24×7 by using live chat software!
You wouldn't let a visitor leave your shop without asking if you can help them? Why do the same online?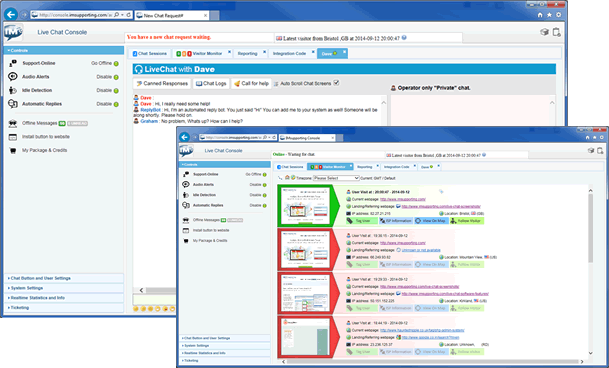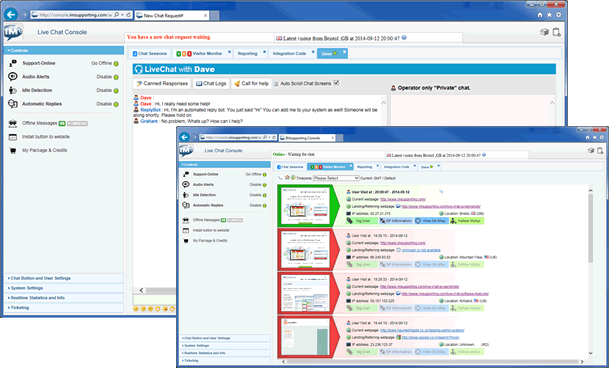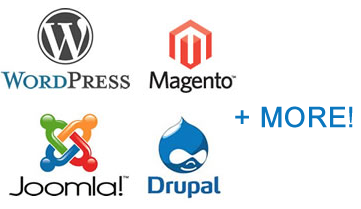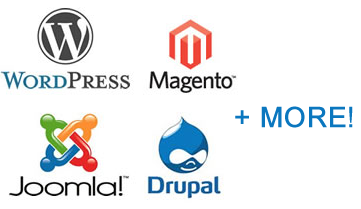 Easy Integration
The IMsupporting live chat platform is compatible with ANY WEBSITE, We have a range of plugins available for quick and simple addition to any website.
Our WordPress live chat plugin enables users to quickly add IMsupporting to their website. With Joomla, Blogger, Drupal, Weebly, Bigcommerce and many more plugins available, you be be assured that our software is compatible with your platform.
We have custom integration options also so if you don't want to use a plugin or one isn't available, you can quickly and easily install manually with our small code snippet.
Don't Like Sharing?
At IMsupporting, we understand that shared live chat software services are not always the best for business applications.
Introducing the Dedicated Live Chat platform from IMsupporting.
Our dedicated live chat enables you to have your own chat platform. This platform is 100% separate to our shared platform so you don't share resources with other companies.
A country of your choice! With the IMsupporting dedicated chat platform you can choose what country your chat software resides in. This allows you to host chats where data never even leaves your country of origin.
With bespoke packages available and starting from only £149 a month, why not get in touch to get your own free quote.